KomKonsult has expertise in providing complete data center solution which includes data center design, development and construction, consulting, commissioning, ongoing facility operations and management. Every customer has different requirements for support options and KomKonsult takes pride in providing customized solutions as per the need of the customers.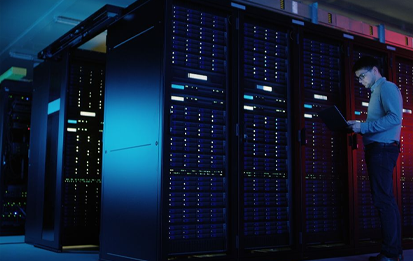 We have experience in providing consistent, high-quality, customized equipment and turn-key racks completely configured, racked, cabled and labeled, as per the requirement of customers. We specialize in Design-to-Order and customized servers and data storage products to optimize our customer's business requirements. Our engineers also help in deployment of equipment as well. The services include power-on, diagnostics, troubleshooting, break-fixing and repairing of already deployed equipment. Our highly skilled engineers help in interconnecting distributed data centers across the entire network and infrastructure. KomKonsult helps service providers in increasing business agility, resiliency and efficiency across their network and data center infrastructure.
Supply Chain And Procurement
Feel free to connect with us.
Address: Flat # 210 Pierpoint Building, 16 Westferry Road, London E14 8NG, United Kingdom
Feel free to connect with us.
Address:Ahmed Al Suwadi
Postal: M-11 Al Firdous Bulding
Behind Post Office Bur
Dubai (UAE)